Wearing: Leather Jacket (also like 1,2,3) | White Shirt (also like this) | Ag Jeans (my all time fav jeans, under $65 1,2) | Red Pumps (exact low heel under $50 here) | Scarf | Celine Edge bag | Earrings c/o Carolee | Sunglasses
As trends tend to change or rotate by each passing year, few things remain constant or get better with time. One such iconic piece is a leather jacket. The history of leather jacket goes back to early 1900's during the First World War when German soldiers wore the bomber version (called as aviator jacket) as an outwear layer of their military uniform. Slowly it rose its popularity to street style when Harley Davidson showcased their first leather jacket which was a shortened version of the aviator jacket. Soon many legends like Steve McQueen The Beatless, The Ramones, Tom Cruise (in Top Gun) made it popular and timeless.
Though it started as a Men's biker jacket, thanks to rock and roll, women began to wear them on a wide scale. Ever since this all-weather jacket had no looking back. It became a versatile closet staple that can be easily dressed up or down.
The Classic Leather Jacket Look for Early Winter
Today's outfit is a classic combination of wearing a leather jacket with skinny jeans. To be honest its one of those borrowed from boys looks with the white shirt and blue denim. I added (offcourse!) added a feminine vibe to it with red heels and crystal drops. This scarf from Topshop is absolutely gorgeous, its super soft and has a cashmere feel to it. The best part is it doesn't shed and spoil your outfit with lint. I always look for such scarves as I own a lot of wool coats.
Variations
There are many ways you can wear the same look by switching the accessories. Here are few
For a complete tomboyish look, wear the same outfit either with slip on's or sneakers and switch the earrings with studs or wear nothing. check similar look here.
For a warmer look, layer a grey sweater over the shirt and replace heels with black boots. Keep rest of the outfit same.
Another chic way to wear it is to layer the leather jacket with a poncho instead of a tassel scarf and finish the look with riding boots.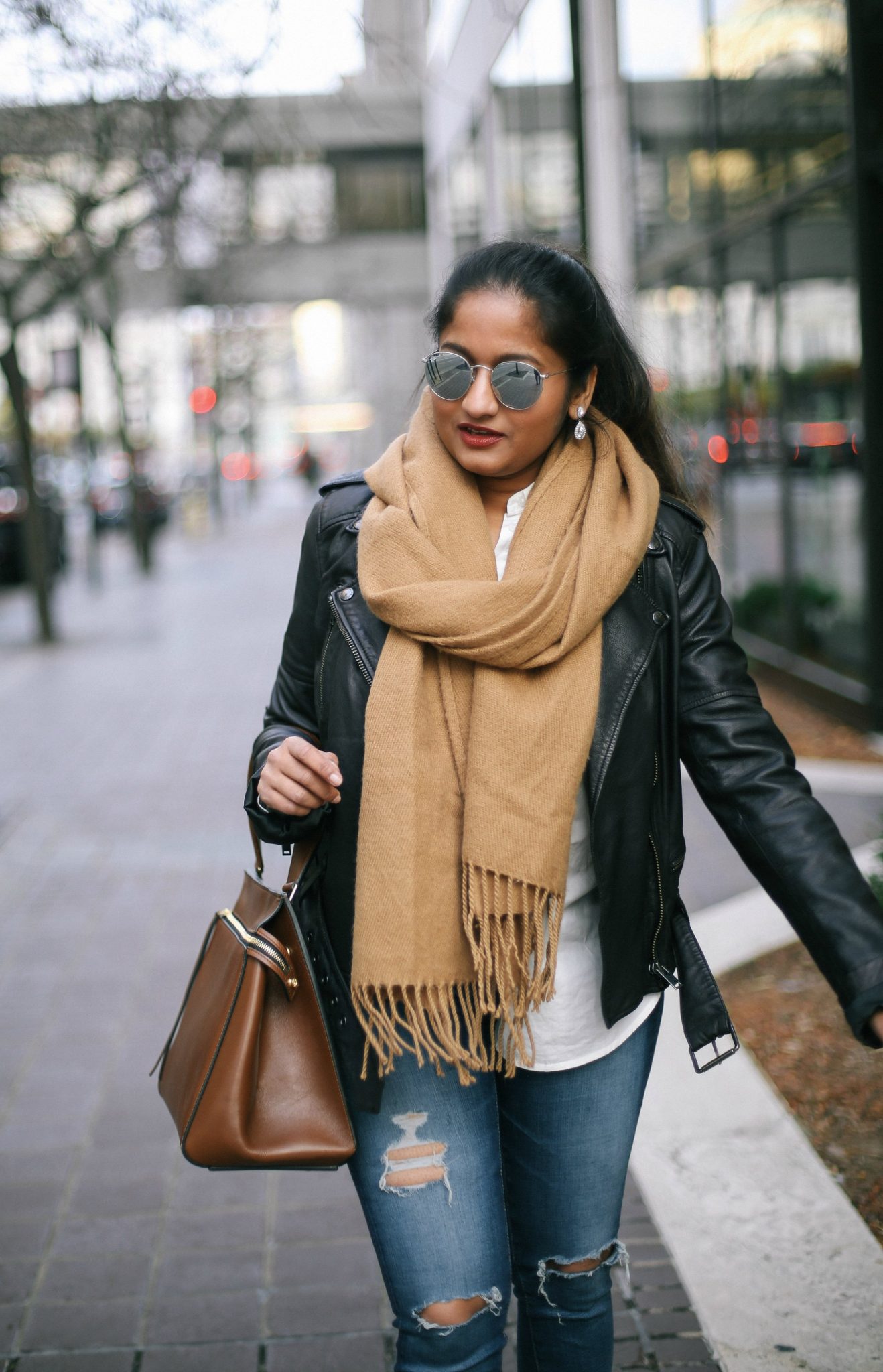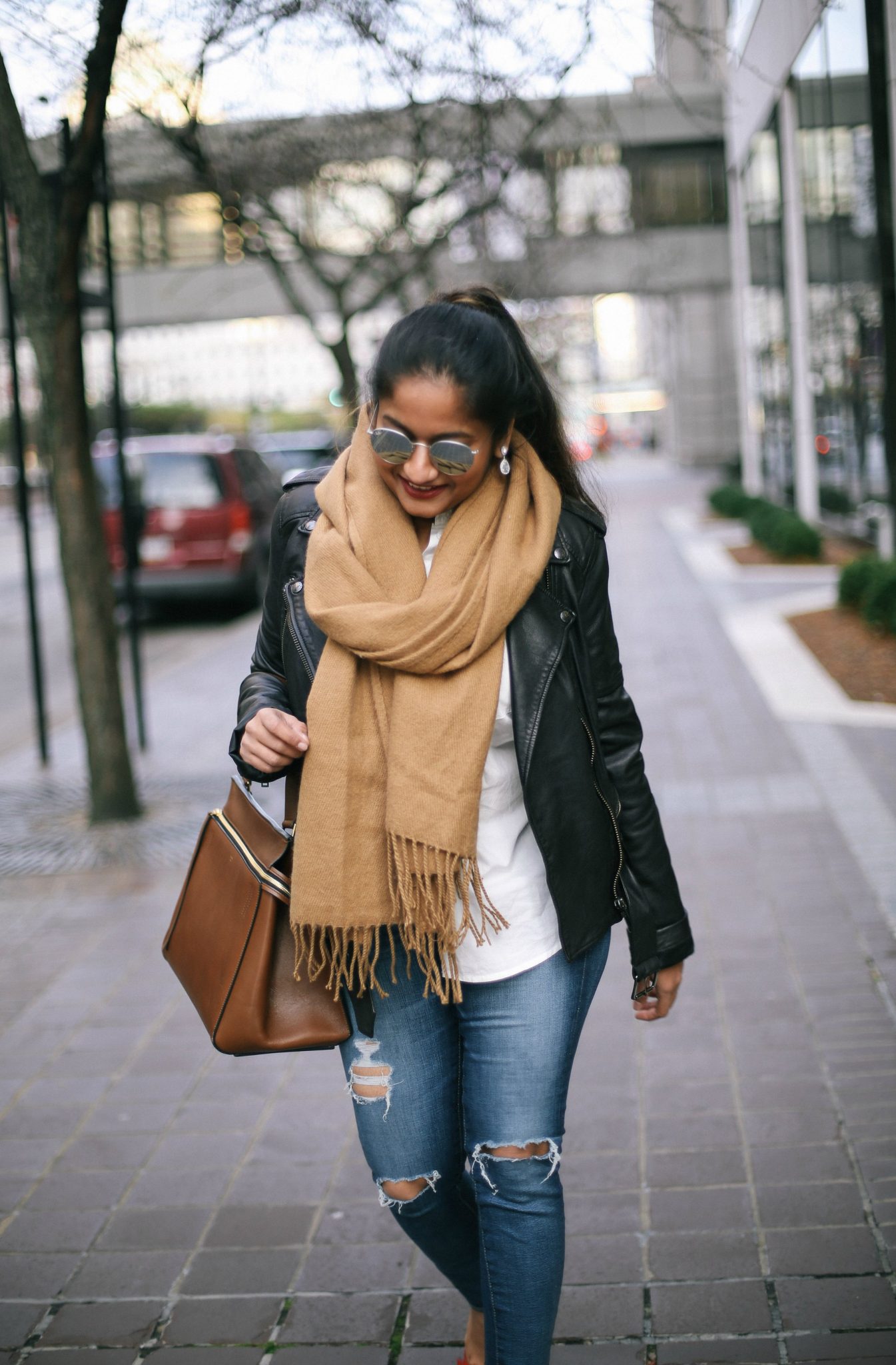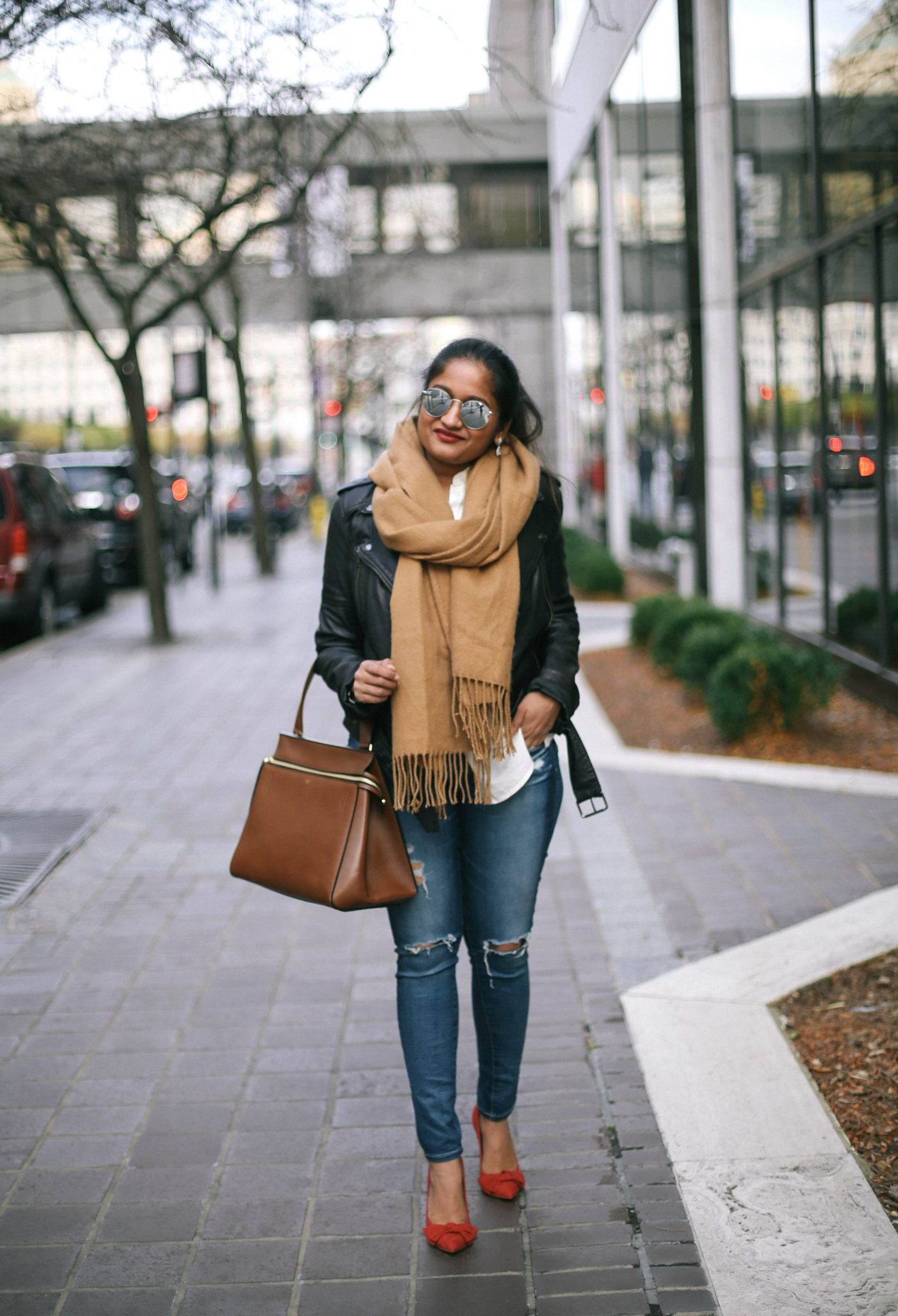 Shop the Post
Leather Jacket (also like 1,2,3) | White Shirt (also like this) | Ag Jeans (my all time fav jeans, under $65 1,2) | Red Pumps (exact low heel under $50 here) | Scarf | Celine Edge bag | Earrings c/o Carolee | Sunglasses
Other variations and similar options