Sweatshirts are the coziest wardrobe staple that even Blair Waldorf approves of (proof- season 5 episode 14; can never forget her I love NY sweatshirt as I was desperately wanting to see her dress down). They are relaxed, cool and masculine but when paired appropriately, sweatshirts can be as chic as a pleated skirt. Plus, you can wear them to office, parties and night outs too.
Tips for dressing up a Sweatshirt
To Work-
Wear it over a button-down tailored shirt with dark denim/formal pant like I did in look #2. Roll your sleeves if your sweatshirt comes with an elastic cuff and opt for solid or formal patterned sweatshirts like stripes/checks.
Wear it over a pencil skirt with a fitted blazer and stilettos.
Wear it under a sweater vest as a basic layer in winter with a blazer/winter coat and ankle boots.
Out with friends or party-
Wear it over a flare or baby doll dress to give a skirt impression with oxfords for a polished look like I did in look#1 or with sneakers for a casual look.
Wear it with a metallic dress or skirt with leather jacket and stilettos for a night out.
Wear it with a printed or lace skirt with blazer vest or trench and tall boots.
Here are the 2 chic ways I paired my sweatshirts- I paired one solid and one printed sweatshirt to give you options!
2 Chic Ways To Wear A Hoodie Sweatshirt To Work Or Out
Sweatshirt Over Dress
Shop The Look
Gingham Dress (similar 1, 2) | H&m Sweatshirt | Moto Jacket (last seen here; similar 1, 2 and 3) | Purple tights | Oxfords | Mab tote (love this) | Hair bow | Reading glasses
Sweatshirt Over Shirt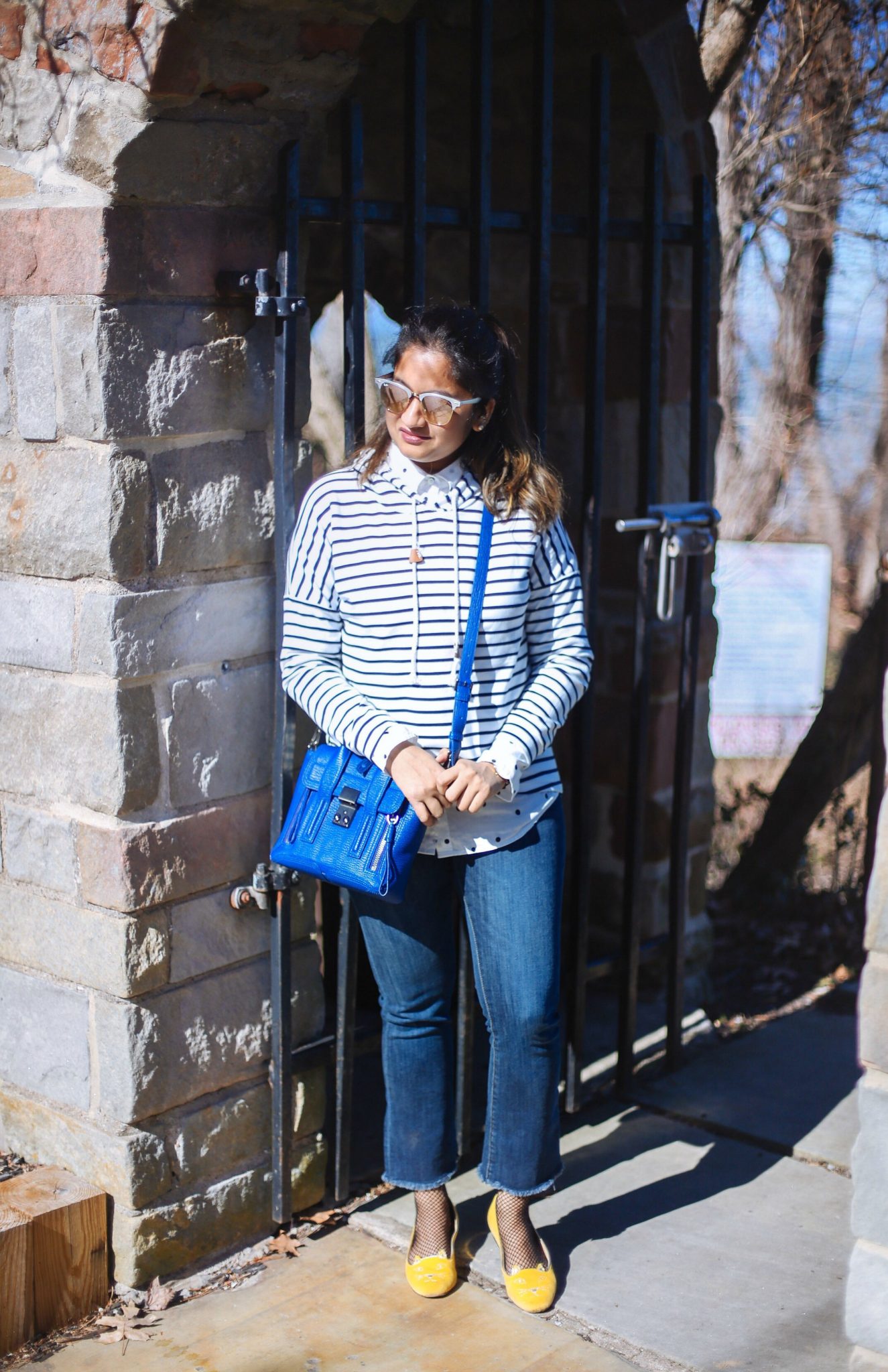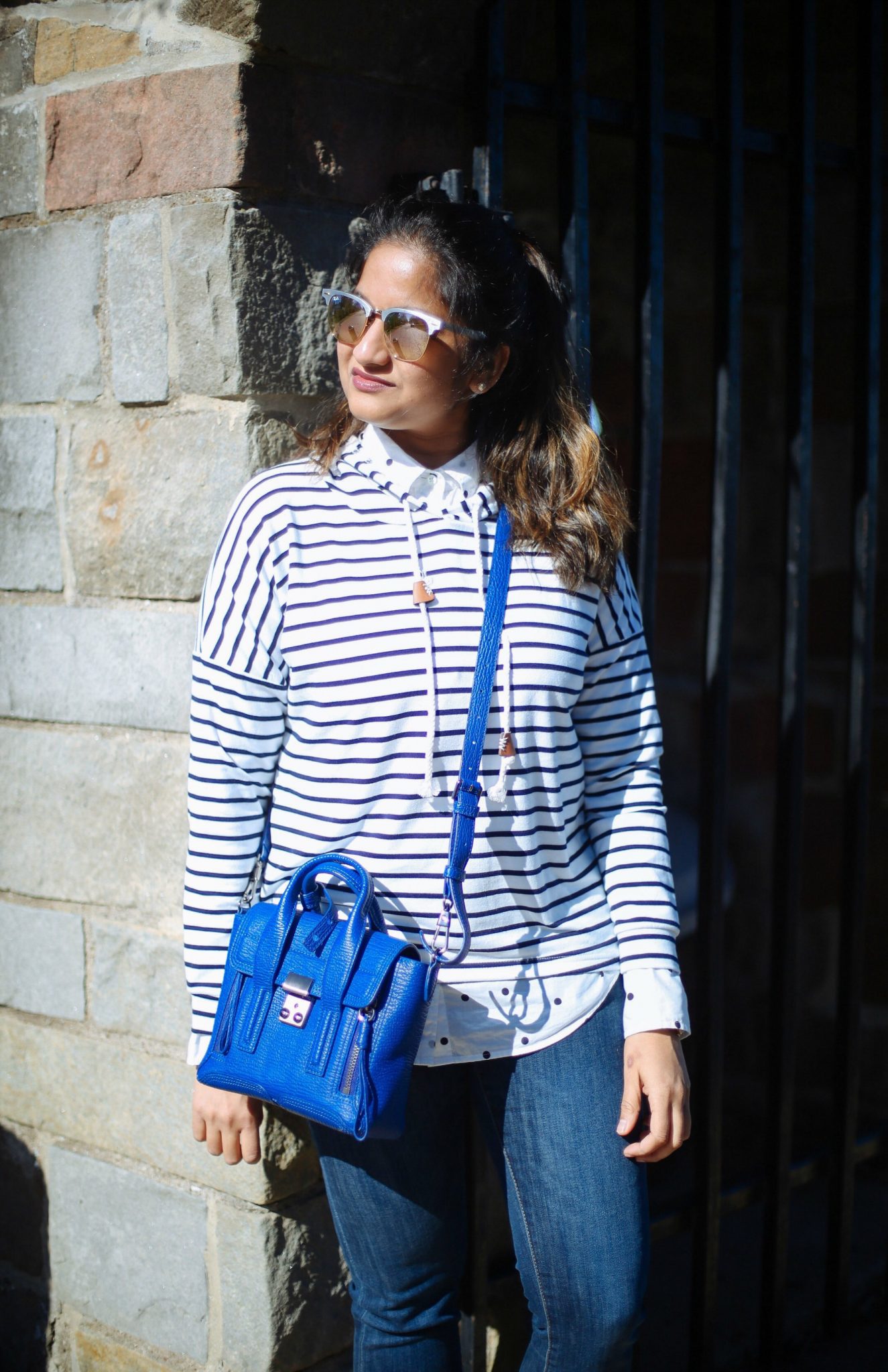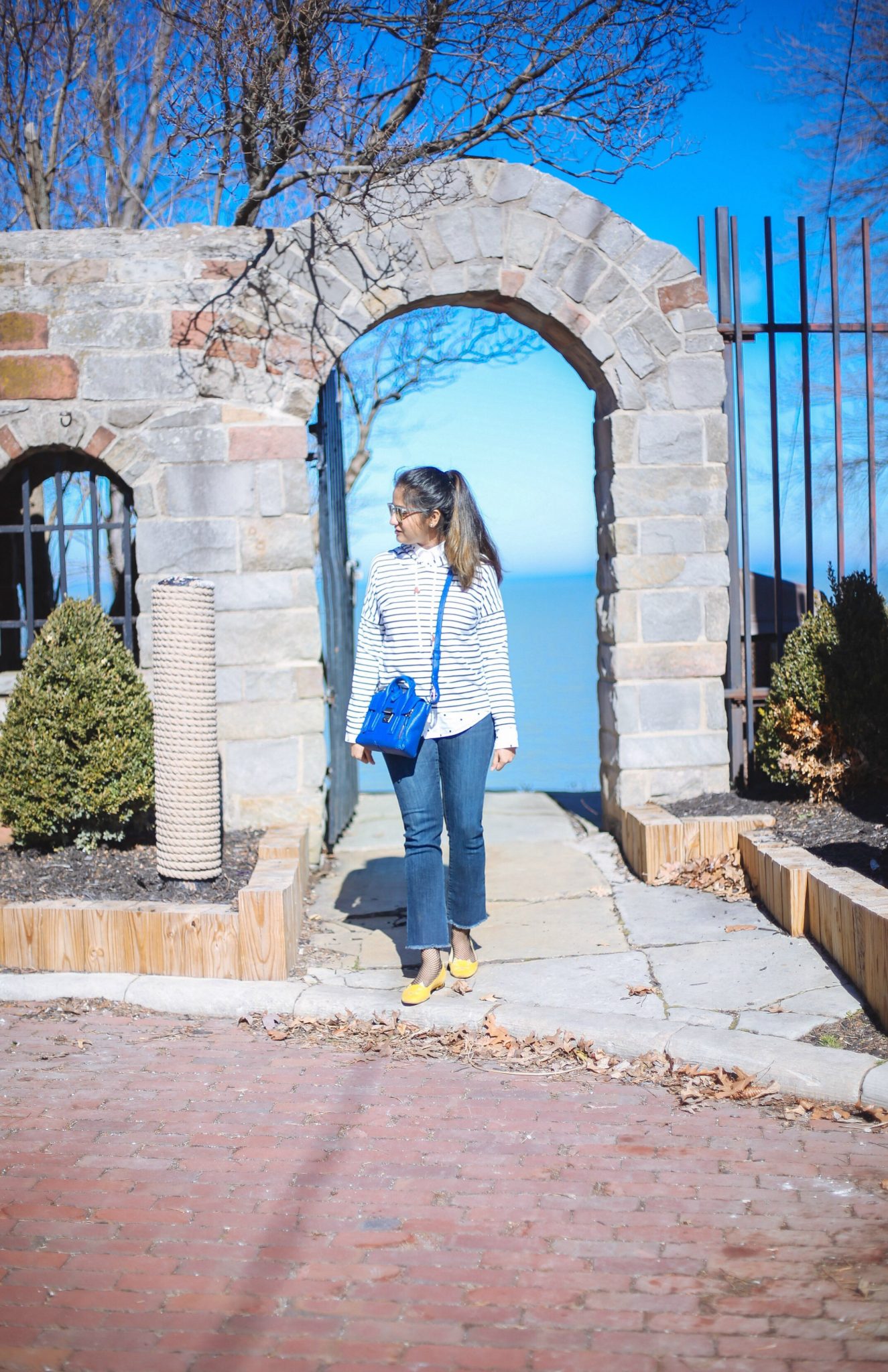 Which look suits your style?
Shop The Look
Stripe Sweatshirt c/o Romwe | Polka Dot Shirt | Crop Flare Jeans (similar 1,2,3) | Fishnet tights (socks) | Kitty Flats | Philip lim Bag (similar 1,2,3) | Sunglasses

Thank you for stopping by!
Love,
Surekha