Outfit Details: Utility Shirt (under $20) | Boot Cut Jeans (wearing size 26) | Black Wrap Coat c/o | Lace up heels | Red hat | Pintrills | Sunglasses (under $25 here) | Fringe Bag (also love this)
I took an Impromptus break from social media last week. It was partly because of my unceasing sense of overwhelming and partly to focus on my personal life. The entire month has been tiring for me since I moved back to Cleveland from Cincinnati, There were so much tension and stress all along. I reached the stage where I no longer wanted to get up from the bed, touch my phone, and respond to people.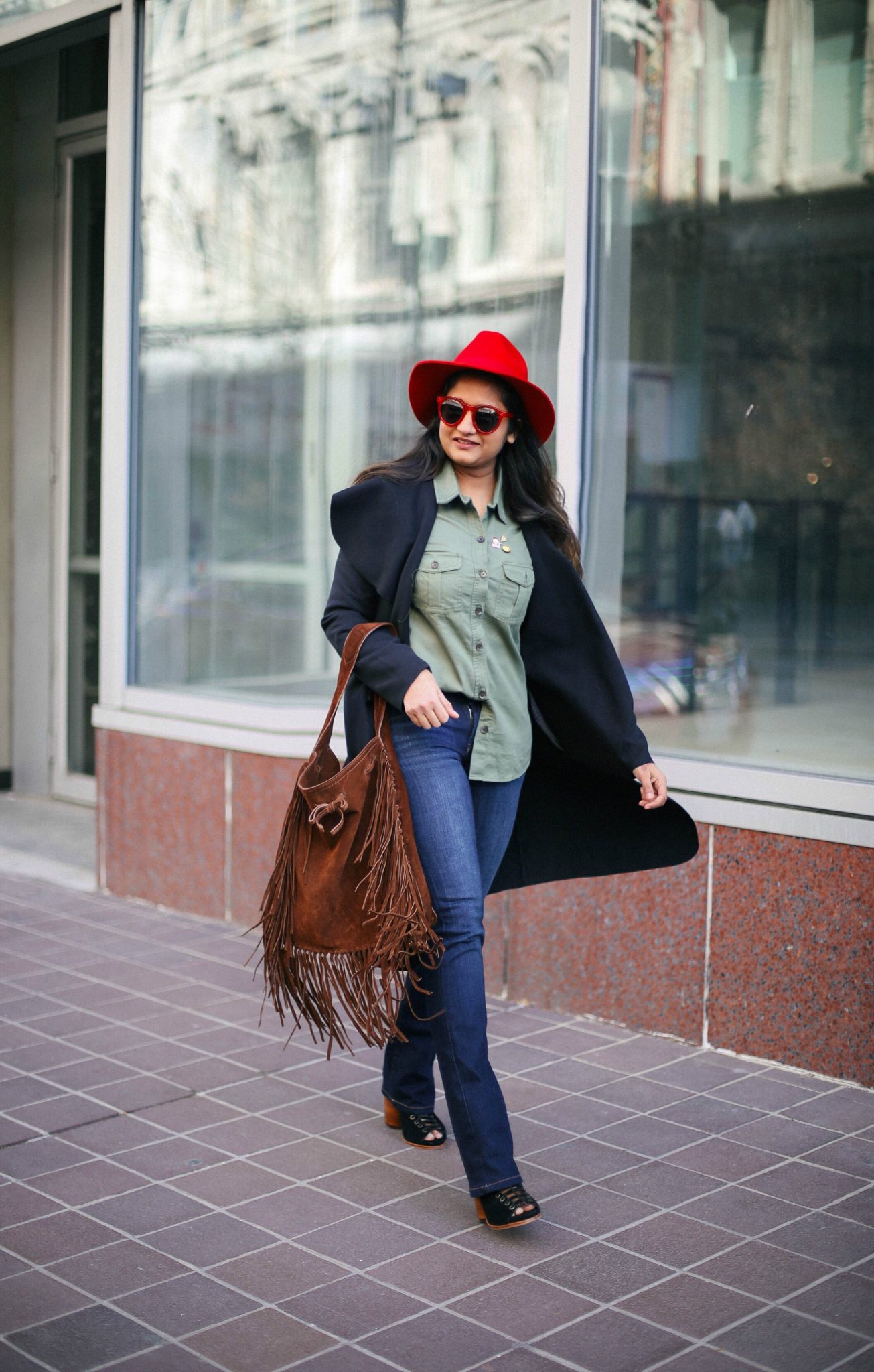 Without realizing I went into my so-called "Zone out mode" by shutting myself from the rest of world. All I did was eat food, everything I was craving for, workout, watch all the shows I missed out and sleep (which I neglect). I tried not to think about my blog, my job, and my life in particular
I just went with the calling of my body and mind without resisting it.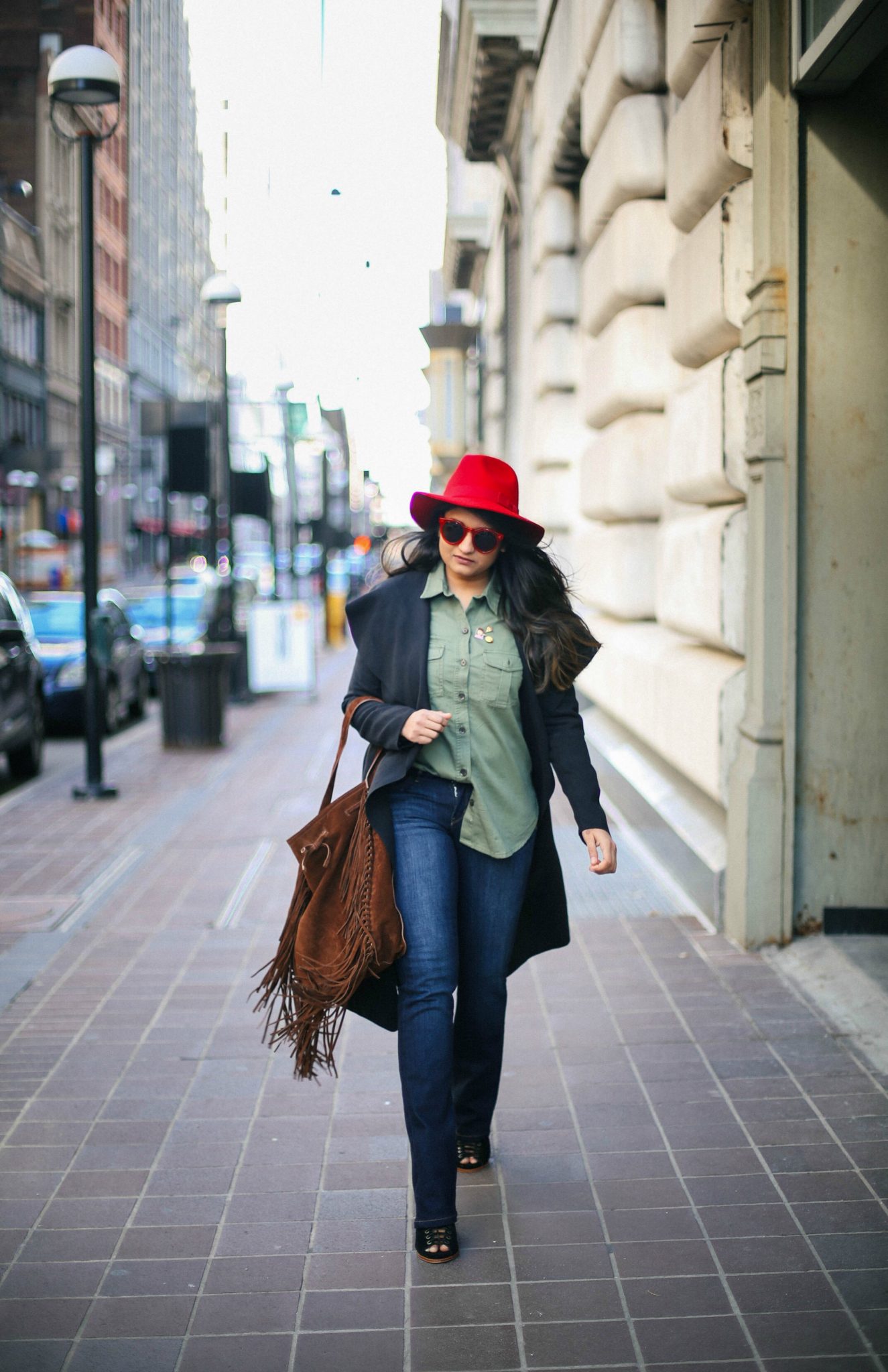 Taking a break from the things you consider "Important" is not always the easiest thing since you have to constantly fight with the lingering sense of fear of missing out and being left behind. There is no point of taking a break when you keep thinking about the things you want to disconnect from. That's when unplanned breaks work its magic for me because your body and mind in unison are willing to give up and calling for a Clean Break.
But is it healthy to push your mind to the extent to let go of all things in order to take a clean break?
Definitely not! but real life isn't that perfect- It's full of deadlines, all- nighters if you wish to fulfill your dreams.
When your commitments and responsibilities become more important than yourself (your physical and mental health) you must STOP, you must take a break.
but the biggest question is not when to stop? or when to take a break? but how to stop?
I fail in this very question, my constant desire to improve, to seek results fast makes me run to the end of the line until I'm exhausted.
Putting your priorities in order, understanding your body needs, defining your success with a balanced lifestyle and by simply putting yourself above everything else will give you control on your actions and life. But this is not something you can achieve in a day but it's a process, it's a lifestyle.
Coming to the outfit, I had these bootcut jeans over a year now, I was too excited to buy it as it was my first and the only bootcut jeans in my wardrobe. But the excitement didn't last long, soon the jeans were lost in my humongous wardrobe until recently when I found it while moving. I love the look of these jeans, it has a fit of skinny jeans with a slim boot at the bottom. I love how it makes my legs look longer and thinner. This is great denim for anyone who is not into bootcut/flare jeans like me.
Shop The Post
Utility Shirt | Boot Cut Jeans (wearing size 26) | Black Wrap Coat c/o | Lace up heels | Red hat | Pintrills | Sunglasses (under $25 here) | Fringe Bag (also love this)


"There is a Virtue in work and there is a virtue in rest, use both and neglect neither" – Allen Cohen
Thank you for stopping by!
Love,
Surekha