I am all about midi and knee-high skirts in general. I rarely opt for maxi skirts as I tend to get to a maximum use out of my maxi dresses by wearing them with a tee/shirt like a skirt. But, as a fashion lover, I never let a cute piece pass by without buying it :D.
Adding to my olive/khaki love lately, I bought this skirt from Target for only $14.
Tips To Wear Maxi Skirts For Petites
A lot of petite lovelies stay away from maxi skirts as they think it will make them look even shorter and bulky. I was the same until I found the formula on how to wear. Here on my tips on how I choose and wear your maxi skirts for petites:
Opt for vertical and small print skirts, as this will give a long continuous look from top to bottom making you look tall.
Wear them with crop length tops. Crop length tops will give an impression of longer lower body.
Avoid pairing with boxy shirts and tee's or tie them up to the waist like I did in the outfits below for a flattering and elongated look.
Opt for flowy skirts over fitted ones. The fitted Maxis might show your body shape differently and end making you look shorter.
The length of the maxi skirt should be between your ankle and top the toe. That way you can wear it with both flats and heels.
Here are 4 casual and chic ways I wore my Target maxi dress
1. Wear your Maxi Skirts for Petites with Crop tops
For an ethnic or boho look, accessorize with chunky jewelry. Overdoing with accessories will really great with this look
Outfit Details: Top | Target Skirt | Lace up heels | Ralph Lauren Bag (similar) | Earrings
2. Tuck your Maxi Skirts for Petites up for a more flattering and elongated look.
This look has an edgy vibe to it with the moto jacket, you can either continue the mood by pairing it with heel booties and a black bag or make it chicer with feminine accessories and shoes like I did. This outfit is perfect for spring/fall.
Outfit Details: Who Wear What Tank | Maxi Skirt | Moto Jacket (similar 1,2,3) | Espadrille Wedges (last seen here) | c/o Pinkstix vegan bag | Earrings
3. Knot it up
For a super casual look, throw on an easy tee and tie it at your waist for a fitted look. Layer it with a plaid shirt or denim jacket for Spring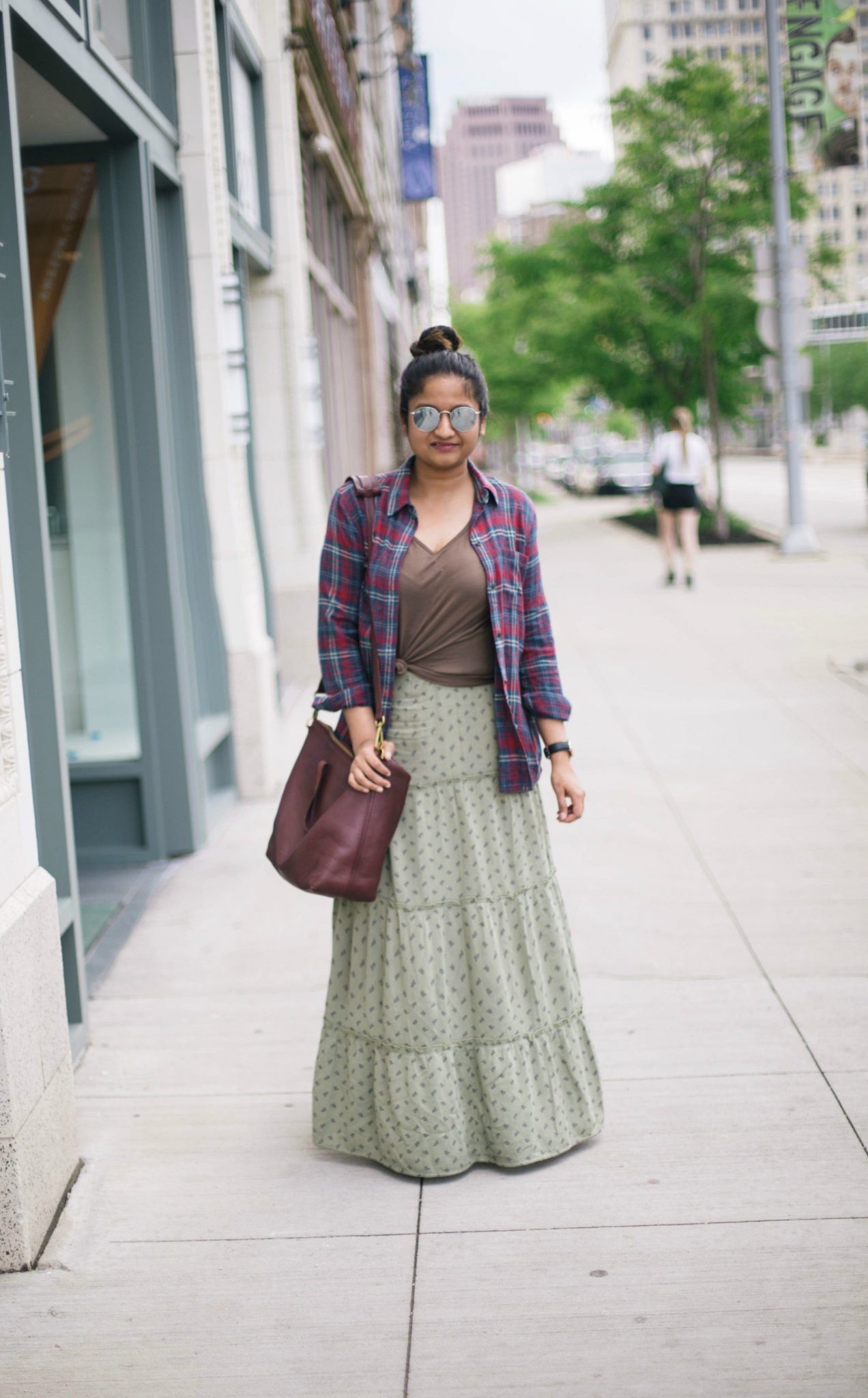 Outfit Details: Brown Tee | similar Plaid Shirt | Maxi Skirt | Madewell tote (tote version) | Converse | Sunglasses
4. Tie your button down shirt
Chambray shirts goes wonderfully with any skirt and you can either dress it up or down by tucking in the shirt or unbutton the bottom of your shirt and tie the both sides to avoid the bulk and annoyance of tucking in your shirt
Outfit Details: Chambray Shirt | Maxi Skirt | Mules (also love these under $40) | Lace Choker (also love these) | Micheal Kors Bag (last seen here; on 50% off)
Shop This Maxi Skirts for Petites Post
MAXI SKIRTS FOR PETITES OUTFIT DETAILS:
Outfit#1- Top | Target Skirt | Lace up heels | Ralph Lauren Bag (similar) | Earrings
Outfit#2- Who Wear What Tank | Maxi Skirt | Moto Jacket (similar 1,2,3) | Espadrille Wedges (last seen here) | c/o Pinkstix vegan bag | Earrings
Outfit#3- Brown Tee | similar Plaid Shirt | Maxi Skirt | Madewell tote (tote version) | Converse | Sunglasses
Outfit#4- Chambray Shirt | Maxi Skirt | Mules (also love these under $40) | Lace Choker (also love these) | Micheal Kors Bag (last seen here; on 50% off)
What is your Favorite Outfit? let me know in comments
"The best accessory women can wear is confidence"
Thank you for stopping by!
Love,
Surekha
1