When I first tried this Jegging, the first thought that popped my mind was "wow! I haven't worn a proper jegging in ages!".
Jegging- a tight-fitting stretchy material pant that resembles a denim jeans
There was a time when they were jegging that looked like denim but wasn't one (yes! the ones we always got confused with leggings) but today we have actual denim that stretches like a legging a referred as legging jeans (or jegging)
Wait, what! aren't they SKINNY jeans? 🙂
NO! Skinny jeans are not stretchy, they are the tight-fitting pants with narrow legs that we all love. It just annoys me when some brands label stretchy jeans as skinny.
But what are Moto Jeggings?
Jeggings that comes with ankle zipper, elastic waistband and ribbed detail on the knee are called moto jeggings!
Now, that I have enlightened (or confused) you on what exactly are jeggings and what is not. Let's get into the post to see how I wore this moto jegging in 3 ways- casual, dressy and bohemian style.
3 Ways To Wear a Moto Jegging
1. Casual Moto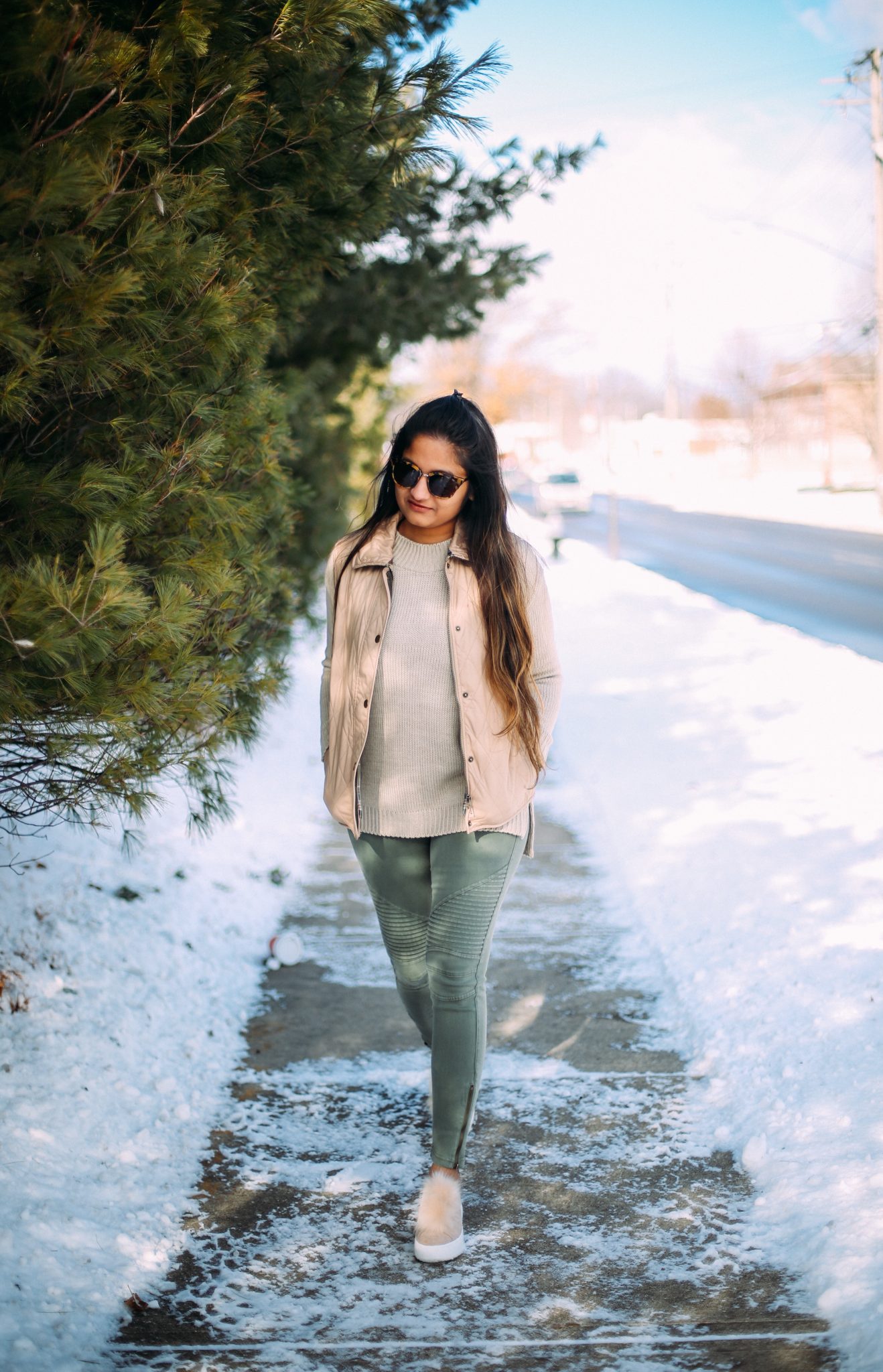 I kept the entire look neutral by pairing the olive jegging with an oatmeal color sweater (I'm wearing a small) and beige vest. The fur sneakers are a great alternative to regular slip on's plus they are on trend.
Shop The Look
Mock neck tunic ($23) | Moto Jegging | LL Bean Vest (last seen here) | Steve Madden fur sneakers | Madewell sunglasses ($55) | Daniel Wellington watch | Marc Jacobs bag

2. Dressed Up Moto
I LOVE LOVE this sincerely Jules dream, believe and achieve tee. If you remember, I included it in my holiday gift guide and ended up gifting one to myself. Olive and leopard print goes really great with each other, that's what I try to incorporate in this look.
Shop The Look
Sincerely Jules dream tee (similar here) | Moto jegging | similar White blazer (last seen here) | Leopard Clutch | Sam Edelman pumps

3. Boho Moto
This is definitely my favorite look. I love slit tunics, they are such easy pieces to pull a boho/ Indian look. I wore a turtleneck sweater underneath as the tunic has slits at both sides. The gold accessories (choker, cuff, and earrings) adds a traditional vibe to the entire outfit. Honestly, I don't feel I did justice to the outfit, by the way, I stood for the pictures but in reality, it's a good combo to wear when you feel like you miss wearing Indian Kurtis.
Shop The Look
H&M black tunic ($19; also comes in olive color) | Turtleneck t-shirt ($14) | Moto Jegging | very similar Lace up heels | Gold earrings ($9) | Boho Choker ($13) | Fringe Bag | old Forever 21 cuff

Thank you for stopping by!
I'd LOVE for you to take my reader's survey! Your inputs are what makes this blog a better space! If you have already taken than Thank you so much!
Love,
Surekha