Planning a thrilling beach vacation? Here are my tips on How to plan a thrilling day trip to Assateague Island's Over Sand Vehicle Beach

I am a Thalassophile in making! I don't miss a chance to go to the beach. I grew up close to an Ocean beach, and irrespective of where I lived, I manage to make it to the beach every summer. We visited Assateague Island over the memorial day weekend and were blown away by the Over Sand Vehicle (OSV) Beach experience. It was an Impromptu trip which made it more special cause we went there with no expectations and truly enjoyed what the place offered. Driving on the sand and the comfort of parking the car on the beach was a thrilling adventure, and it was surreal. Located off the coasts of Maryland and Virginia, Assateague Island offers an unforgettable day trip experience for nature enthusiasts and beach lovers alike.
If you live in MD/DC/VA/Delaware/NY/NJ, check out this unique outdoor adventure that combines breathtaking coastal scenery, wildlife encounters, and the thrill of driving on sandy shores. Sharing everything you need to know to plan the day trip
How To Plan A Thrilling Day Trip to Assateague Island's Over Sand Vehicle (OSV) Beach
1. Vehicle Requirements and Safety Gear You Need
To ensure a safe and enjoyable experience driving on the sandy terrain of Assateague Island's OSV area, your vehicle should meet the following criteria:
Most SUVs, trucks, and Jeeps are going to be fine on the beach.
All-wheel drive: While not strictly required, a 4×4 vehicle is highly recommended for improved traction and maneuverability on the sand.
Clearance: The National Park Service recommends that your vehicle has a minimum of 7 inches of ground clearance. This provides better clearance over sand and reduces the risk of getting stuck in softer areas. Additionally, the maximum vehicle length should be 26 feet, and the maximum vehicle width should be 8 feet.
Tires: Ensure your vehicle has appropriate tires suitable for driving on sandy surfaces. A Tire pressure gauge is a must, as you need to lower the tire pressure between 15-20 PSI before getting into the beach. More in detailed are shared below
Tow Strap: It is essential to carry a tow strap with a minimum 6000 lbs breaking strength rating. This sturdy strap will allow you to tow or be towed in case of an emergency safely or if assistance is required. We got this tow strap.
Jack and Jack Support: A sturdy jack can lift your vehicle's weight. Additionally, ensure you have reliable jack support, such as a jack stand or wooden block, to secure the vehicle during tire changes or maintenance.
Shovel: It is advisable to have a shovel in your vehicle to assist with digging out if needed, especially if the tires become buried in soft sand.
2. How to get the Permit
Before setting off on your day trip, obtaining an OSV permit to drive onto the beach is essential. You can buy the permit online at recreation.gov. The day permit is called the OSV annual permit, which is $110 and allows 24-hr access to the Maryland OSV zone. The pass is valid for an entire year from the date of purchase. From midnight to 5 am, you must be actively fishing to stay in the OSV zone. The permit allows access to the Virginia OSV zone during Chincoteague National Wildlife Refuge hours.
You can only camp on the beach if you stay in a particular area called the "Bullpen" for which you need to get Bullpen Permit (this permit also includes OSV access). It requires a self-contained vehicle with a toilet, waste-water storage tanks, etc.
Purchasing an OSV permit does not guarantee entry to the OSV zones. To keep the beach from getting crowded, The National Park Service limits access to only 145 vehicles in MD and 48 Vehicles in VA at any given time. We used this OSV Count website to check the number of cars on the beach constantly.
On good weather days and weekends in the summer, the beach fills very quickly, so plan to reach early to get access and avoid waiting at the gate to get in. We arrived at the beach on a Sunday morning around 8.00 AM, and the beach had over 80 vehicles; it was breezy; imagine the crowd you would expect on a good sunny weekend.
3. Entry and Exit
For address, put Assateague Island's Over Sand Vehicle in the maps. At the entry, show the online purchase to get a sticker that needs to be affixed to the inside of your windshield.
Entry– Before entering into the sand, you will notice cars stopped at the shoulder to reduce the tire pressure. Stop the car and reduce the air on all 4 tires to 15-18psi. We used this gauge to do that easily. Lowering the tire pressure can significantly improve traction on the sand, ensuring a smoother drive.
Exit– When you come out of the OSV zone, the NPS has provided air compressors (see the above picture) to inflate the tires before heading home.
Once you get on the sand, stay on the existing tracks for a smoother ride. Once you find a spot, you like to camp, park the car and relax.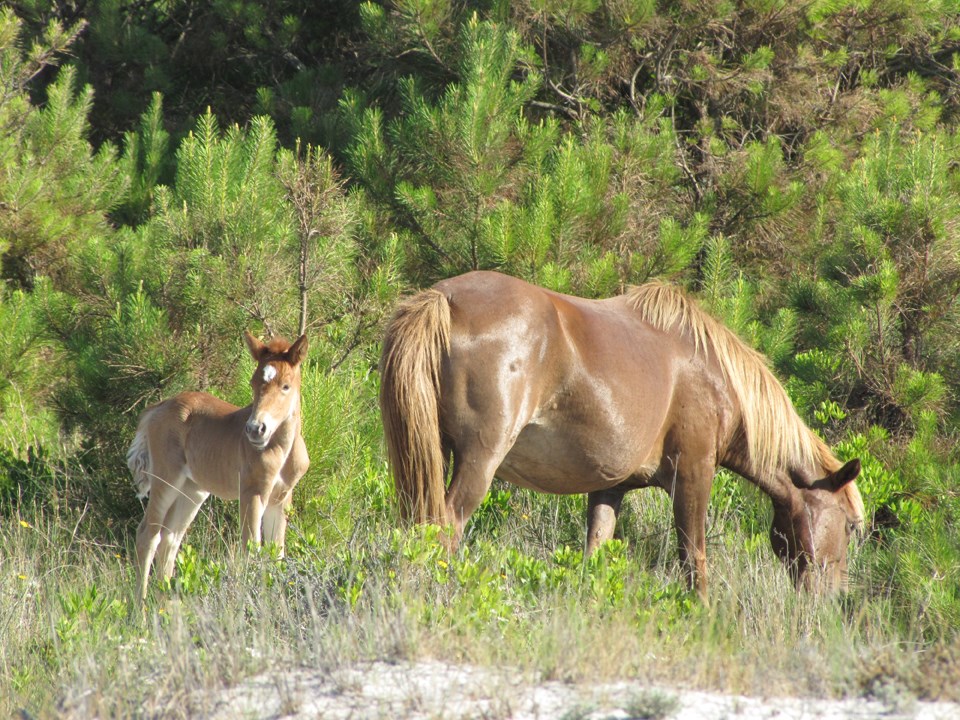 image source- NPS
4. Wildlife Encounters
One of the highlights of Assateague Island is its wild horses. Keep a keen eye out for these majestic creatures as they roam freely along the beach and in the dunes. The horses were BEAUTIFUL. We didn't see any on the beach but saw them on the road while entering the OSV zone. The "wild" horses on Assateague are actually feral animals, meaning they are descendants of domestic animals that have reverted to a wild state.
5. Things to Pack
Apart from safety gear, these are all the things we packed.
Camp Essentials
Pop-up tent for shade– This took less than 5 mins to put up and remove.
Lounger– these fold up and come with backpack straps.
Water Resistant Picnic Blanket– This folds up compactly and comes with a carry handle.
Beach Essentials
Beach Towels
Quick dry a Kid's towel or a poncho
Also, carry towels to wipe your pet
Hoodie or jacket for kids. It can get breezy at the beach.
Extra pair of clothes for kids and adults
Food
You have to get out of the OSV zone for restaurants, so recommend packing food or grilling at the beach.
Snacks- a lot of snacks for kids
Cooler– to store food and drinks
Lunch- We prepared food the night before and carried it in the cooler. If you are planning to grill, pack all the essentials you need, including a portable table.
Water bottles
Plates and Utensils- We carried our own steel plates and cutlery to avoid waste. Rinsed it with water before putting it in. It was truly hassle-free.
Pet food and snacks
What We Enjoyed the Most
Pet Access
We love taking Bagheera (or kIng Sheppard) with us everywhere we go, so the fact that we could plan this day trip to Assateague Island's Over Sand Vehicle (OSV) with him made this experience 10/10 for us.
Privacy
Since the NPS restricts the number of vehicles enter into the OSV at a given time, you will have some privacy compared to the regular beach area.
Clean Beach
I don't know if the entire beach is clean, but the spot we chose was clean compared to other beaches we have been to in Maryland.
No walking
Since you can park the car right on the beach, you don't have to walk miles to find a spot. All we did was get off the car, put up the tent, and chill, it was luxury!
Final Thoughts
It was breezy over the weekend we visited so couldn't stay long, next time we are planning to stay long and enjoy the sunset at the beach. Moonlight walks on the beach are my kind of utopia
Shop The Post