Creating a Non-Toxic Baby Registry checklist was a daunting, overwhelming, and exciting experience for a new mom who didn't know the difference between a bib and a burp. It involved a lot of research and learning and took me a couple of months to finally decide on items I wanted to add to my baby registry!
Like any parent-to-be, I wanted the safest, most natural, and best products for my baby as I learned more about the toxins (listed the toxins to avoid in the checklist which you can download at the end of the post) included in the baby products. As I found non-toxic and sustainable items. I realized that my options got limited, and my budget went up. So, our game plan was to invest in non-toxic baby products that the baby will spend the most time on and/or items that have longer usage. That's why I called the post "my almost non-toxic baby registry " as you will see a mix of both natural and non-natural products.
Here are all the products we chose; I did my best to review every single item, which made this post super long, but I wanted to make it easy for you to create your registry, especially if you are a first-time mom, the whole process can be really overwhelming. DON'T PANIC by seeing the long post, read through the post so you understand what you need the product for, and decide if you need it or not. Some of the baby must-haves can be different for different people; it depends on how much help you have or whether you are bottle-feeding or breastfeeding. Read the "review" section under products for a detailed review.
Here are a few options to create your baby registry; all these registries have free goodies you will get when you make a purchase through the registry.
Related Posts
Baby Registry Checklist Part 2
My Almost Non-Toxic Baby Registry Checklist Part 1
Non-Toxic
Baby Registry Checklist- Gear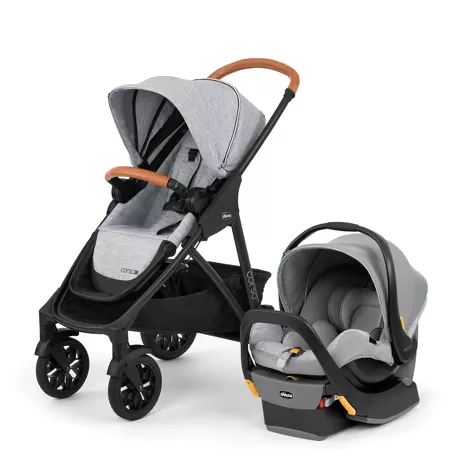 1. Travel System
First, let's start with the basics; if you are a first-time mom, understanding these might help in making informed decisions.
What is a travel system?
A travel system is a combo of the infant car seat and stroller. All you need to do is unclip the car seat from its base and snap it into the stroller! Most travel systems also come with a toddler seat that can be snapped it into the stroller base when the baby starts sitting up.
How long can you use the infant car seat and stroller?
The infant car seat can be used until the baby has reached the manufacturer's weight and height limit. For the Chicco car seat, it's 4-30 lbs. We switched my son to a toddler seat at 13 months. We got this Britax convertible car seat which offers both rare-facing and front-facing options, and it's completely non-toxic. Britax is a world leader in car seat safety!
Which Travel System have you got?
We got the Chicco Corso Travel system; it came with their popular KeyFit 30, car seat base, newborn insert, lightweight frame stroller, and a toddler seat. Both the car seat and toddler seat have forward-facing and parent-facing options. Chicco is green guard gold certified for its low chemical emissions. Still, their car seats are not flame-retardant-free. In reality, most car seats in the US market currently contain at least one chemical flame retardant to meet the federal fire test standard for vehicle accessories. Federal fire tests can be met using wool – naturally a fire retardant instead of chemicals. Bumbleride, Nuna, or Uppababy car seats use this but have a hefty price tag.
We also got a used Uppababy Vista stroller with the bassinet (no car seat- it is not recommended to buy used car seats) on the FB market place which was in pretty good shape. We used it to baby train our dog and also used the bassinet for the first month. You can see the stroller in action here.
Review: You can see the stroller in action on my Instagram. The stroller is sleek, stylish, reasonably lightweight, and easy to operate. What I love the most about the stroller is that you can quickly fold and open it with ONE HAND, and compact enough to fit into small cars. The stroller also has an amazing adjustable suspension that will give you a smooth ride even in bumpy terrain. We put the stroller in the roof rack during our long road trip last month, I was worried that we would ruin it, but it sustained a pretty heavy storm and still looked new. Overall it's a sturdy stroller that does not only look incredible but is extremely practical. It also has decent storage; it fits my big diaper tote and still has space left to put something else.
Instead of a Travel system, can I get an Infant car seat?
Yes, you can get only buy the infant car seat and get a frame stroller, and when the baby is ready for a toddler seat, you can invest in a travel stroller that is compact and lightweight.
Shop Chicco travel system at Target, and Amazon (Non-toxic option in Chicco here)

2. Stroller Organizer And Stroller hook
This Skiphop organizer pouch is great to keep your cell phone, water bottle, and other essentials on the go. While stroller hooks fit everything you need, you can hang your handbag or shopping bag for a hands-free experience; I highly recommend it. The diaper tote I recommended in the post comes with a stroller hook.
Shop Stroller organizer at Target, Amazon and Stroller hook at Amazon
3. Baby Carrier
Baby wearing is a wonderful way to connect and nurture your baby while being able to do things hands-free at home and outside. The Tula Baby Explore carrier can be used for front and back carrying and can have the baby facing forward and backward. It works from Newborn(7 lbs) to toddlerhood up to 45 pounds. The carrier is made with soft and breathable 100% cotton with no toxic flame retardants, and it's easy to clean and machine washable.
Review- I use the carrier at times for our evening walks (thanks to #dl10kchallenge, I get some workout done every day), and in the house when he is fussy and I want to get some work done. It came in really handy when we went to Niagara Falls, NYC with my parents when V was 4 months old. I really appreciate the mobile pocket in the waistband, so easy to reach to take it out and put it back without disturbing the baby, it's definitely one of the best features of this carrier. I waited to use the carrier until my son could keep his head upright, which was around close to 3 months as I read reviews about the wrap semi-lacking head support for newborns. I recommend a cloth wrap in the early weeks or a newborn carrier over exploring for the first couple of months.
Shop at Amazon, Baby Tulla; the other carrier we used and loved here (it's not non-toxic)

4. Car Seat Mirror
I didn't know babies love to look at themselves in mirrors until we added this car seat mirror :D. It attaches securely, so I don't have to worry about it coming off. It works like a toy for my son, keeping him occupied while helping us check on him while driving.
5. Diaper Bag
The Dagne Dover diaper tote gives you quick and easy access to everything. It comes with a portable diaper changing pad, removable bottle holder, extra zipper opening for easy access wipes, and a ton of organizational pockets to keep all the baby essentials and toys. It comes with a longer strap or handles to carry it and stroller straps to clip it to the stroller.
Review- I love the brand and use their laptop tote for work. I LOVE that the diaper tote looks like a regular bag and can be used beyond a diaper tote. I got it in dark moss color; it's an incredible color and doesn't look weird even if my husband holds it 😀 If you are not a backpack person like me and looking for a tote, get this one you won't regret.
Shop at Dagne Dover (Diaper belt bag option here)

---
Non-Toxic
Baby Registry Checklist- Nursery
6. Pack and Play
A pack-and-play is a portable crib that can also double as a play space for your child. They come with a mattress, along with mesh sides. Pack and play fold up when they're not in use for storage or easy transport.
We received the Graco pack-and-play as a baby shower gift and absolutely loved the idea of having a portable crib/play area that is easy to move (lightweight and comes with 2 wheels), packable, and travel-friendly. It can be used up until the baby is 30 pounds. This is an amazing option if you live in small spaces. Graco products are not free from flame retardants but if I honestly knew how functional the playpens were, I could have added the Guava Playpen to my baby registry as it's free from flame retardant, BPA, PVC, lead, and other heavy metals.
Review: You can see it in action in my IG story highlight "Baby Essentials". Hands down a playpen is my number one baby essential! Very easy to put together. We use it as a day bed for my son and take it with us every time we go out to our friend's place. It creates a safe sleep environment for the baby on the go. Since we put it in the living room, it has helped my son get used to sleeping with noises around him and distinguish between day and night. We also briefly had it beside our bed but it wasn't on the same level as our bed so I had to get out of the bed to pick the baby up for feeding and diaper changes.
7. Crib
The Davinvinci 4-in-1 convertible crib is green guard certified and made from sustainably sourced New Zealand pine wood, and lead safe. It can be easily converted from a crib to a toddler bed, day bed, and full-sized bed using conversion kits sold separately.
Review: We co-sleep cause V hated sleeping in a bassinet or a crib initially so didn't have any option and truth be told, I enjoy co-sleeping with him. We didn't get much use out of our crib yet but we are planning to convert it into a toddler bed and train him to sleep in it soon.
8. Crib Mattress
The Newton Crib Mattress is 100% breathable, recyclable, and completely washable. The crib mattress is 2-stage, meaning it will last well into toddlerhood and beyond (up to 5 years) and it's green guard gold certified.
Review- With this, I don't have to worry if my son rolls over and sleeps because of its innovative Breathe-Thru technology that lets air pass freely and independently.
Shop at Newton. Use code dreamin_loud50 for $50 off mattresses or orders over $250. Organic Mattress sheets we got here, here, and here
9. Dresser
We went with the solid wood 7-drawer dresser that will be perfect for any room in the house. The best part was it came completely assembled.
Review: All V's clothes, accessories, diapers health and safety essentials, everything goes into this. I use dresser organizers to fit everything in and organize them into categories.
Shop Dresses at Wayfair, dresser Organizers here and here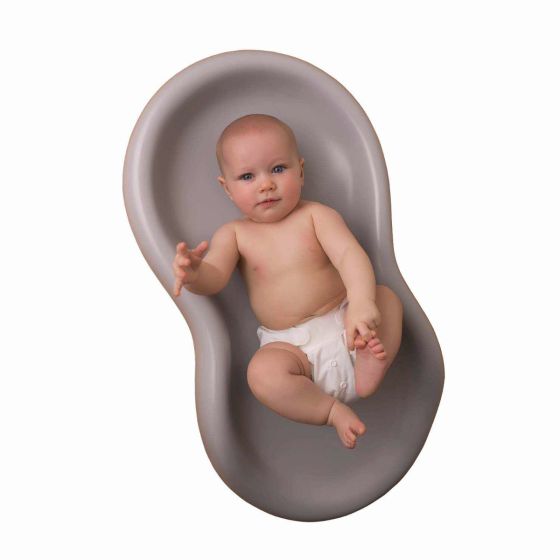 10. Changing Pad
This Keekkaro Peanut changing pad makes diaper changes hassle-free. I don't have to worry about washing sheet covers or investing in disposable sheat liners, just wipe clean the surface and I am done. It's waterproof, BPA-free, and completely toxic-free, made with dura-soft material that limits the growth of bacteria and mold. It is on the pricier side but it reduces waste and if you add up a few organic pad covers and waterproof disposable liners you're already saving money with this one.
Review- If changing pad is a must-have for you, highly recommend this one. We also use this for oil massaging before the bath, and changing clothes. It has been really helpful with tummy time as well. We also have this portable changing pad for diaper changes. It was $20 and has pockets to hold diapers and wipes. Our nursery is on the second level so the portable one has been very useful for my mom to change the diapers in the living room itself. You can just get this and move around the house with the baby + it's travel-friendly.
Shop at Keekaroo, Walmart (this is highly in demand, so hard to grab them on other websites); Portable Diaper changing pad here
11. Recliner and Swivel Glider
The Davinci Recliner and Swivel Glider is very very comfortable and great to calm a fussy baby. It looks like a regular recliner so I know we will be using it beyond a nursing chair. We plan on moving it to our bedroom/family room when we longer need it in the nursery.
Review- I also like this chair to sit and read books to Vihaan. But I would have survived without one. I preferred to sit on the couch most time when I was feeding him. I didn't see a need to go to the nursery every time. I was gifted this portable rocker by the brand, it's actually genius, you can put it on the couch or any chair to make it a rocking chair
Shop at Amazon, Target, and Wayfair; Portable rocker here
12. White Noise Machine
We use this portable white noise machine every night. I love that it's affordable ($28) and easy to move around the house and can be hung on the stroller or the crib!
Review- This noise machine also helps me sleep better 😀 before having V I would play sleep music on youtube and go to sleep. You can definitely do that and save money! Also, I mostly make shhh noises with my mouth which usually helps put him to sleep faster.
13. Baby Lounger
The Snuggle Me organic baby lounger is made with 100% organic cotton (but the inside is filled with traditional polyester) which makes it safe for the washer and dryer. It gives your little one a spot to hang out or can be used as a co-sleeper. The lounger gives a swaddle-like feel with cushions all around and a hammock effect in the center so babies tend to sleep better on them. But AAP doesn't recommend unsupervised sleep on loungers.
Review-My son used to sleep so well and long in this lounger. We use to put it in the pack-and-play and sometimes also used it to co-sleep with him at night (esp on days when I was tired and needed a good night's sleep). It has helped us to wean him out of swaddles faster. But once the baby shows the sign of rolling over, it's better to not put them in this for long, as it restricts them from rolling over. We successfully weaned him out of the lounger at 5 months, now he likes to sleep on his side (just like his mamma :D). The scope of a lounger is very short but we used it a lot in that short time. I also used the lounger to take his monthly milestone pictures and created a collage when he turned 1. The lounger retails at $99, here is another option (I found out recently) made of organic cotton and cheaper than snuggle me organic but I have not personally used it.
Shop at Target, and Nordstrom; Lounger cover here and here; Affordable option here
14. Laundry Hamper
Got this elephant wicker hamper, it comes with a removable laundry bag, and the hamper can also be used to store toys and stuff.
Review: The hamper comes with a lining inside to take the clothes to the laundry room. My son is 2.3 now and we still use it.

15. Velvet Hangers
Got these baby velvet hangers.
Review- I use these to hang all Vs Indian clothes, jackets, overalls, etc. He is 2.3 now and I still use them, they go beyond the newborn phase.
Shop at Amazon

Check out Feeding, Bath and Dipaer, Clothing, and Other New Born Essentials in
part 2 HERE
Download the FREE Baby Registry Checklist Spreadsheet